About Us
Every person, group, start-up, company and project are unique, which is why we believe in a customized approach to product development.
Who We Are
Grüne Technica, Inc. is a high-tech, full service product development firm that is devoted to providing uncompromised quality at a competitive price. We are client oriented from start to finish, ensuring that every important detail is cared for.
While keeping our clients fully involved, we help guide projects from concept all the way to manufacturing. It is our personal belief that a product is only complete when styling, function, ergonomics, economics, ecology and manufacturing are fully explored and balanced.
We utilize state-of-the-art computer aided design and engineering to develop your product concept, and the latest in material and process technologies to generate prototypes and manufacture your end product.
We've worked in many different industries that span from architectural components, automated equipment, automotive parts and products, bicycles and components, consumer appliances and electronics, furniture, luggage, marine products, medical products, snowboards and other sport-related products, toys and vending machines, just to name a few.
What Make Us Different
Our civic values.
Our holistic approach.
Decades of experience.
Direct Project Management.
Our commitment to the environment.
Values
Being good stewards of our planet matters at Grune Technica. We believe there has to be balance in the world and are conscious about the resources and processes we use to innovate and manufacture. We make decisions and give carefully considered options to our clients from a conservationist minded philosophy.
Responsible design is more than a motto at Grune Technica. It is a value we seek to embody. We support individuals and companies trying to get green products off the ground, and even offer reduced pricing for design and engineering services to those seeking to offer the world more eco-responsible products.
Our holistic approach takes into account:
The client and client goals.
What is the product and how is it better?
Why are we doing this?
How is it used, where is it used and who uses it?
What is the life cycle and how can we improve it?
What is the intended market and what does it need to cost?
What is the expected performance?
Who is the competition and what patents exist?
Environmental impact and how we can improve it?
Manufacturing Processes and Materials?
Does it require innovating materials or processes?
Human-factors /ergonomics / user experience.
What do we need to do to distinguish against similar products?
When "free-range" Is Not A Good Thing
Many design/engineering firms exercise a "free-range management" strategy for projects; often utilizing a sales person with no direct design/engineering experience to oversee the team working on a project. Without having an expert to spearhead the project, the client is forced to communicate independently with several team members and the salesperson becomes a project-sitter who can't recognize when the team is off track or if there is something seriously wrong with the project.
This creates communication gaps, oversight, and wandering initiatives, commonly resulting in expensive mistakes and excessive project costs, and failed projects. We have been hired many times to take over and fix these types of projects.
Conversely, we exercise a direct (experience-based) project management strategy where a single designer/engineer "manager" spearheads the project. The experienced manager is the single point of contact to the client, acts as the liaison to all team members, distills the clients needs into actionable items, is responsible for developing and driving the project directive, assuring the project stays on task, on schedule, and ensuring nothing is oversighted. In other words, an expert designer/engineer manages the project and team, acting in your best interest, troubleshooting along the way, so you don't have to.
You be the genius with the brilliant idea, and we'll do the work to make it real.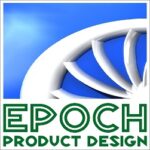 Recognizing Our Heritage
In January 1997, seasoned designer/engineer Steven Dodson founded the design firm Epoch Product Design out of his home in Santa Barbara, California to provide services to companies like Oakley and Fujitsu.
In 2007, Epoch Product Design relocated to the Portland-metro area, and in 2008, Grüne Technica, Inc. was formed as a parent company to Epoch Product Design.